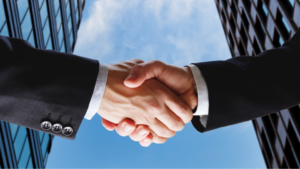 Strong in a team: Partner for the management of implant-associated infections in Orthopedics and Trauma surgery.
Heraeus Medical offers quick and easy access to PRO-IMPLANT Foundation's consultation services
Better availability of expert advice on the treatment of complex septic complications
Interdisciplinary recommendations on treatment concept within 24 hours
Heraeus Medical and the PRO-IMPLANT Foundation combine their expertise for optimal treatment concepts of implant-associated infections in orthopaedics and trauma surgery. In the treatment of periprosthetic joint infections (PJI), the choice of an interdisciplinary, well coordinated treatment algorithm is an essential success factor.
"In order to define an optimal treatment strategy as quickly as possible, Heraeus Medical has teamed up as the first industry partner with the
PRO-IMPLANT Foundation to provide clinical professionals with easy and fast access to a unique expert network in septic surgery," explains Lothar Kiontke, Head of Marketing at Heraeus Medical.
PRO-IMPLANT Foundation's consultation service now easier to use 
The PRO-IMPLANT foundation has been advising medical professionals on the treatment of bone, joint, implant and other complex infections since 2012. An interdisciplinary team of clinical experts is available for questions and advice via the online consultation portal and by telephone. Until now, the consultation service was only available through the PRO-IMPLANT Foundation. The partnership opens up new ways and broader access to this consulting service. As an industry partner, Heraeus is thus taking on a pioneering role in digital infection management.
"The partnership with Heraeus Medical opens up comprehensive opportunities for the PRO-IMPLANT Foundation to efficiently support physicians in the treatment of complex septic complications," said Dr. Andrej Trampuz of the PRO-IMPLANT Foundation. "Within 24 hours, interdisciplinary recommendations are communicated and treatment is monitored to optimize treatment success and mitigate costs."
Contact Heraeus Medical GmbH:
Meike Zimni
Head of Marketing Communication
Philipp-Reis-Str. 8-13
61273 Wehrheim
Tel.: +49 6181-35 2925
E-Mail: [email protected]
Contact Stiftung PRO-IMPLANT
Dr. Magdalena Czuban
PRO-IMPLANT Foundation
Chausseestr. 121A
10115 Berlin, Germany
Tel.: Tel.: +49 30 549084571
E-Mail: [email protected]